Phlebotomy Technician Specialist
---
Blood analysis remains an essential part of medical care, as it is used to check for a wide range of issues. Therefore, demand for phlebotomists will remain high as doctors and other healthcare professionals require bloodwork for analysis and diagnosis.
10% National Job Growth

projected from 2021-2031**

**Source: U.S. Bureau of Labor Statistics projected national growth in job openings for phlebotomists 2021-2031

https://www.bls.gov/ooh/healthcare/phlebotomists.htm

Projections are national. Local job market demand may vary.
Phlebotomy, (pronounced fləˈbɒtəmi) is an essential field in healthcare. Phlebotomist work in physicians offices, medical clinic, laboratories or hospitals. The primary function of a Phlebotomist is in drawing blood for lab analysis or transfusion.
According to Neil Fried, Department of Labor Economist for the State of Alaska, "Healthcare is one of the largest and fastest growing sectors in the services classification with well paid highly skilled workers." ACC's Phlebotomy Technician Specialist program can offer the rewards of a stable career plus the opportunity to be in a growing profession.
Alaska Career College students learn Medical Terminology, Anatomy and Physiology as they directly pertain to phlebotomy. The program covers all aspects of blood sample collection. Students learn a minimum of forty of the most commonly ordered laboratory tests, the reason the tests exist, how to handle abnormal test results, special procedures such as pediatric collections, arterial blood gases, and how to receive and transport specimens properly.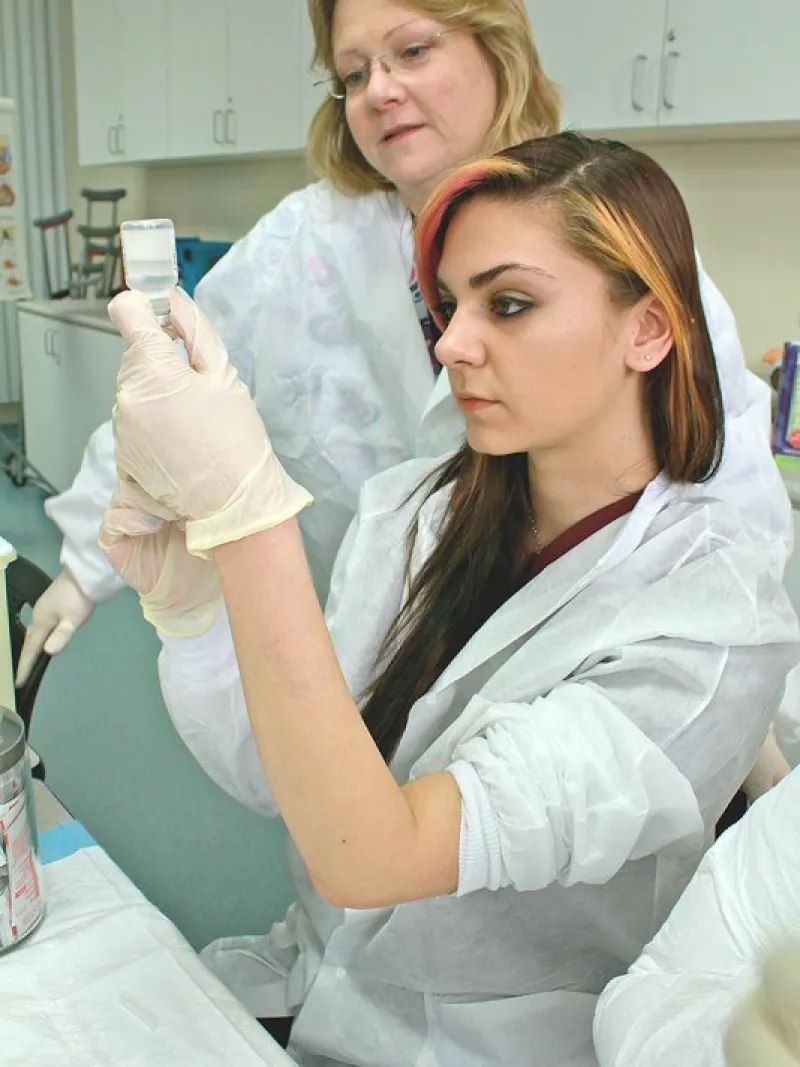 Students not only learn in the classroom but also in a modern laboratory simulating the facilities, equipment, and records found in both the administrative and clinical areas of this medical environment.
Alaska Career College Phlebotomy Assistant Specialist students are scheduled to complete their national certification exam during the program without waiting for the pre-requisite two-years in the field of work experience. Upon successful completion of the exam, ACC graduates are credentialed as Nationally Certified Phlebotomy Technicians, NCPT, receiving nationally recognized credentials and certification and acceptance into a career path and profession of healthcare technology.
Phlebotomy Technician
This program will provide graduates with the skills and certifications needed to succeed in labs, hospitals, clinics and medical offices.
Basic First Aid / Life Support
Electronic Health Records
Medical Office Software Applications